Current program
Victor Marx & Mikael Tofvesson - A New Sweden
Exhibition Opening
May 22, 2017 at 6:00 p.m.
Exhibition dates
May 22 – July 8, 2017
Commented visit
May 26, 2017 at 5:00 p.m.
Where
Foyer of National Library of Technology
Free entry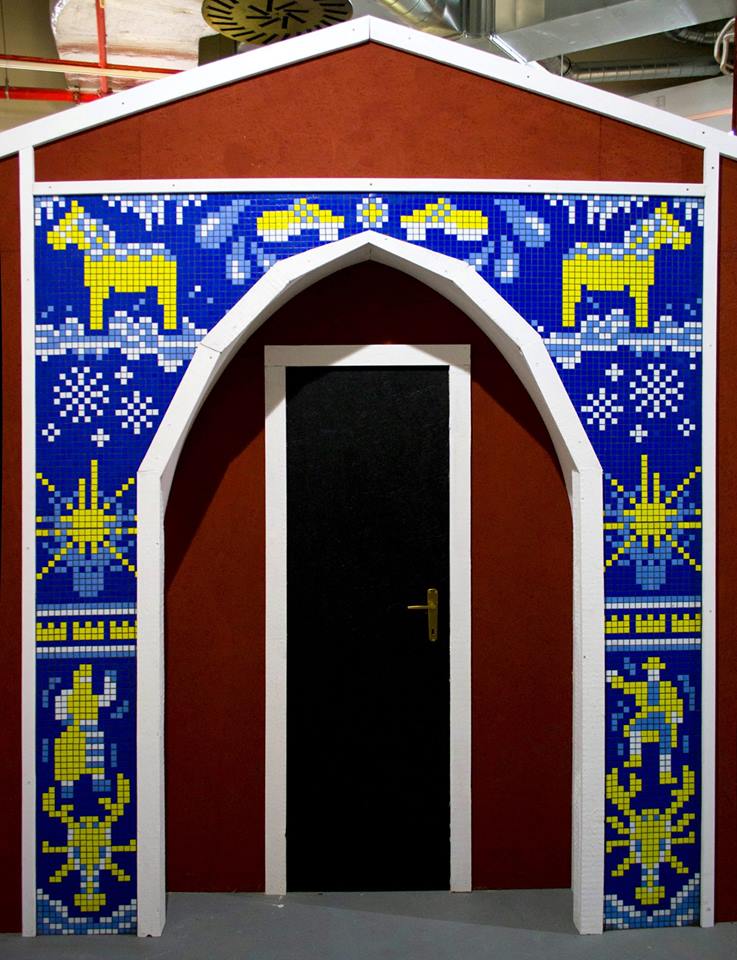 The exhibition presents a new-old Sweden. The old national symbols meet the new multicultural society. The stereotyped red cottage with white corners meets the architecture of a mosque. The Swedish barn meets the Arabic pointed arch, the dome and the minarets. The Dome of the Rock with it s blue and yellow mosaic (the colors of the Swedish flag) evolve to a mosaic of the Swedish kitsch that we sell to the tourists. The mosque is exhibited as a half or a whole structure depending on the size of the exhibition space. The structure is framed by a wall paper fond. It will have a pattern influenced by the Swedish tree birch. The birch captures the feeling of the Swedish nature in the winter, black and white. The nature is being a strong emotional symbol in Swedish society. There were plans of reworking Swedish traditional clothing into a burqa and also working with Swedish patterns on scarfs. These plans are still at the drawing table though.
But, why? What is the meaning of this?
In Europe xenophobic tendencies are growing rapidly. The society is changing and there are groups with aggressive rhetoric claiming we are loosing our peculiar cultural nature, the conspiracy theory of 'muslimification' reaches an extended public. These groups manage to play into people's fears in a society that hardens, when the social security net disappears and unemployment rates raise.
The most people in Sweden own no traditional Swedish clothing and many of us can ́t name a single traditional Swedish folk music song. The most of us do not live in a society of red and white cottages and never use Swedish wooden shoes. The national cultural heritage is becoming a subculture consisting of a few interested nerds or a gimmick linked to a few traditional festivals as "Midsommarafton". The Swedish cultural heritage is nonexistent in the Swedish mainstream culture that is rather Americanized than European or Swedish.
Instead we state that multicultural society is much closer to the majority of Swedes in their every­day lives. Does it not then become weird when populist right-wing criticize the immigrants for not adopting to Swedish cultural standards enough?
Our hypothesis is that the same populists that claim the above would feel even more offended if immigrants did adapt. Then the populist rhetoric could claim instead that our culture is being stolen. The art piece is discussing these questions on an emotional level. Do Swedish people want to get back to Swedishness that never existed in today ́s scale and is there any sense in forcing immigrants to do so? Or do the majority of Swedes want to live in a mixed society with many influences. And has not the society and culture always changed in contact with other cultures?
Victor Marx (1983) is a visual artist and an architect who lives and works in Stockholm. He works with contemporary social themes that he incorporates into his urban interventions/projects. The scale of his work is somewhere between architectural and more sculptural forms using elements of performance, social interaction and participation. His work transcends several fields of cultural/art production with main focus on social and urban solutions within the Swedish context. However, his themes have much broader character and more global importance. He deals with topics such as are - changes of current social fabric, multicultural identity, art and cultural activities within the economically defined space, cultural independence, DIY architecture and architecture in the margins, regeneration of unused public spaces, or renewal of a local social interaction etc. Victor Marx's work is frequently mentioned in Swedish media because of its connection to ongoing heated public debate on Sweden's future and a future of public/street art. Victor was one the founders of Cyklopen, an independent culture house in Stockholm, of which he was also an architect. Cyklopen gained its firm position in Stockholm's contemporary cultural/art scene for its community oriented approach and its distance from traditional and official cultural/art institutions, often limited by their hierarchical and bureaucratic nature and rigid organizational methods. The Cyklopen is situated in Stockholm suburbs, the melting-and-meeting pot of various cultures where the future Sweden is just taking shape. Work of Victor Marx is currently documented by Martina Iverus for the new program of Swedish TV 1.
Mikael Tofvesson (1983) is visual artist working in the city of Stockholm. He is committed to street art for a long time and he uses street art related expressions and techniques – graphic, illustration, 3D animation… He was also taking part in Cyklopen independent culture house project and he is a member of street art collective Carper together with Victor Marx and others. Mikke does not prefer to use his real name – strong anonymity has ethical and practical use for street-art artists but this time we meet him behind his civil name.
Curator
Lexa Peroutka
Cooperation with DADS Gallery in Liberec
Gallery NTK
Gallery NTK opened in 2009 as an integral part of the library's cultural offerings. Since that time, it has hosted a number of exhibitions focused primarily on the interconnection between contemporary art, science, technology, and architecture.
Due to the gallery´s location – in the heart of the Czech Technical University campus – a considerable number of students´ projects have been exhibited here as well. In addition to these exhibitions, the gallery has established cooperation with various cultural and scientific institutions that utilize the exhibition space and present new and original topics.
Gallery exhibitions are often covered in the leading Czech media and abroad.
Location: Ground Floor, near entrance NTK2.
Culture at NTK

For us, the library represents a space that is both physically and mentally open – to people, the interchange of ideas, and art. Our building was the result of collaboration between architects, engineers, designers, theorists and artists; these intellectual intersections continue to this day.
The inspiring architecture of the library (including the well-known interior atrium murals by Romanian artist Dan Perjovschi) foster critical inquiry, exhibit a sense of humor, and contribute to what we hope is a unique aesthetic experience.
Our cultural events and cooperations with artists aim to illustrate the reciprocal creative
spark between art and science.
Contact
Milan Mikuláštík, curator
‌ milan.mikulastik@techlib.cz
‌(+420) 773 653 825
Opening Hours
mo – fri 10 — 18
sa 10 — 16
Archive (in Czech)
Partners