Current program
SUPERNOVA
Opening
March 1, 2018, 6:00 pm
Exhibition dates
2. 3. 2018 - 1. 4. 2018
Where
Gallery NTK
Free entry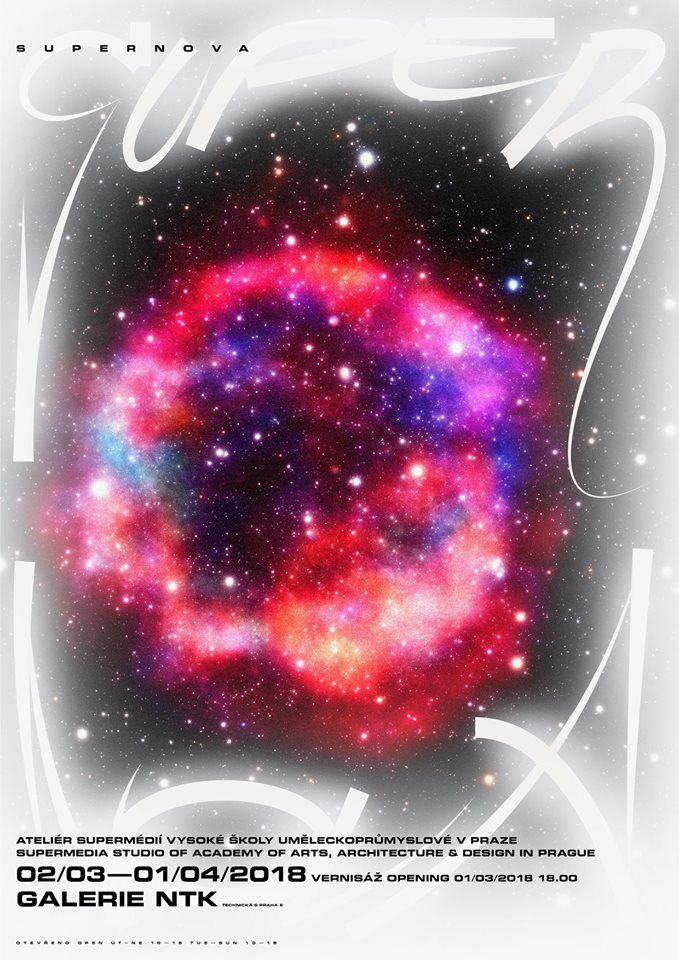 About exhibition
Works of students and graduates of Studio of Supermedia of Academy of Arts, Architecture and Design from Prague. The Studio was established in 2007. Teachers of the studio were artists Federico Díaz, David Kořínek and Milan Mikuláštík. After more than ten years, the existence of the studio is ending together with this show.
Supernova - violently exploding star whose luminosity after eruption suddenly increases many millions of times its normal level.
Exhibiting
Jana Bernartová
Klára Boudová
Max Dvořák
Tereza Fišerová
Dominik Gajarský
Jan Hladil
Aleš Hvízdal
Jakub Jansa
Radovan Kissoczy
Aneta Klímová
Filip Kopecký
Adéla Korbičková
Markéta Kosinová
Olga Krykun
Kateřina Kubalová
Ladislav Kyllar
Radim Labuda
Marie Lukáčová
Kristýna Lutzová
Max Lysáček
Lukáš Machalický
Jan Martinec
Andrea Mikysková
Jan Nálepa
Dimitri Nikitin
David Nosek
Olbram Pavlíček
Lea Petříková
Anna Pospíšilová
Kristýna Strejcovská
Jonáš Strouhal
Evžen Šimera
Jan Zdvořák

Curators
David Kořínek & Milan Mikuláštík
Design
Matúš Buranovský
Gallery NTK
Gallery NTK opened in 2009 as an integral part of the library's cultural offerings. Since that time, it has hosted a number of exhibitions focused primarily on the interconnection between contemporary art, science, technology, and architecture.
Due to the gallery´s location – in the heart of the Czech Technical University campus – a considerable number of students´ projects have been exhibited here as well. In addition to these exhibitions, the gallery has established cooperation with various cultural and scientific institutions that utilize the exhibition space and present new and original topics.
Gallery exhibitions are often covered in the leading Czech media and abroad.
Location: Ground Floor, near entrance NTK2.
Culture at NTK

For us, the library represents a space that is both physically and mentally open – to people, the interchange of ideas, and art. Our building was the result of collaboration between architects, engineers, designers, theorists and artists; these intellectual intersections continue to this day.
The inspiring architecture of the library (including the well-known interior atrium murals by Romanian artist Dan Perjovschi) foster critical inquiry, exhibit a sense of humor, and contribute to what we hope is a unique aesthetic experience.
Our cultural events and cooperations with artists aim to illustrate the reciprocal creative
spark between art and science.
Contact
Milan Mikuláštík, curator
‌ milan.mikulastik@techlib.cz
‌(+420) 773 653 825
Opening Hours
Tue – Sun 10 — 18

Archive (in Czech)
Partners